The 2222 Films were a set of recordings recovered from planet Tiny during the Cradian year of 2222.
Content
[
]
The films chronicle the initial struggle of a shipwrecked pilot (known only as Pilot) as he fights for his sanity alone on a planet. Eventually, Pilot finds his prison to be a sanctuary and learns to love his solidarity. Pilot shot everything himself using documentation hardware. He solely achieved a number of confusingly complex camera angles and even captures stills of Tiny from outside its atmosphere. Scientists believe these angles were achieved with some sort of remote-controlled satellite.
Controversy
[
]
After the films' recovery by the World Government, the decision was made to discourage the privatization and independent control of space travel. People Against the Privatization of Space Travel (PAPST) was organized and a series of propaganda films were released.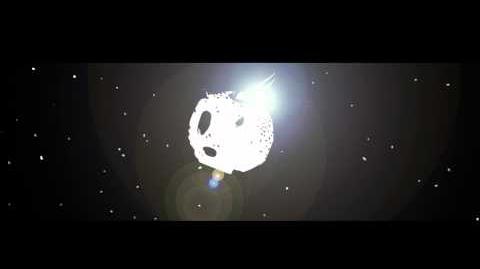 The films, voiced by Dr. Corn Stephenson, were decontextualized, which is where the controversy stemmed from. While the films did somewhat accurately portray his initial struggle, Pilot went on to live a very fulfilling life on Tiny, and died happily in his bed at an old age. This image seemed to encourage the idea of exploration, and thus it was cut.