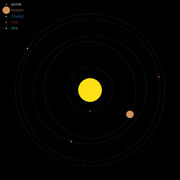 Named sanctimoniously by Cradians, the solar system Primary contains 5 planets, two of which are Class I-NI, as well as a reasonably-sized Sun.
Sun — Contains 99% of the mass in the solar system, though the Sun is a relatively small star. Supplies energy.
Gavin — Relatively small, hot, and lifeless planet. Known for its unique metallic atmosphere.
Mondo — Named for its obvious gigantism. Besides the Sun and Moon, Mondo is the most noticeable object in the sky and is visible even during the day.
Cradle

is a

Class I Subclass NI

planet, located within the Solar System

Primary

. It is the origin of all

Cradians

—a

CIIIC

bipedal 

Race

—as well as a myriad of other

Races

and

Creatures

. Cradle is home to two

satellites

.

Mur — Class C planet relative in size to Cradle. Mur is famous for its intricate series of underground tunnels.

Between Mur and Ven exists an asteroid belt known as AB-PI or, Asteroid Belt: Primary One.

Ven — The final planet in the Primary System and revered as the most beautiful.
Community content is available under
CC-BY-SA
unless otherwise noted.